Intelligent Robot System Environment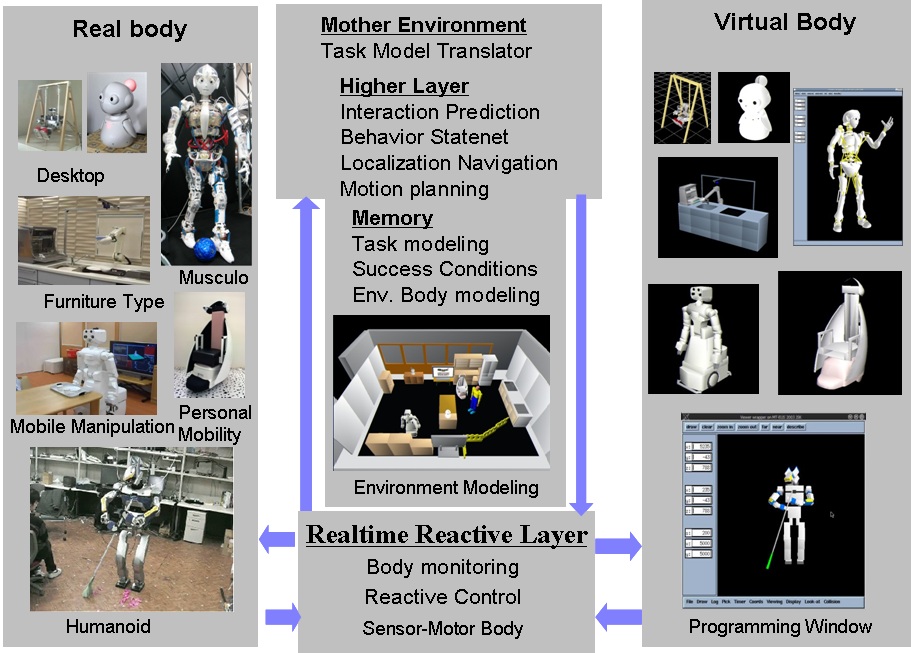 M. Inaba, K. Okada, T. Yoshikai, R. Hanai, K. Yamazaki, Y. Nakanish, H. Yaguchi, N. Hatao, J. Fujimoto, M. Kojima, S. Tokutsu, K. Yamamoto, Y. Kakiuchi, T. Maki, S. Nozawa, R. Ueda, I. Mizuuchi: Enhanced Mother Environment with Humanoid Specialization in IRT Robot Systems, in Cedric Pradalier and Roland Siegwart and Gerhard Hirzinger (Eds.): Robotics Research: The 14th International Symposium ISRR, pp.379--396, Springer, 2011.
Masayuki Inaba, Kei Okada, Ikuo Mizuuchi, Tetsuya Inamura: System Realization of Humanoid Robot - Implementation in Robot System Description Language Euslisp, Computer Software, Vol.23, No.2, pp.45--61, 2006.
M.Inaba, S. Kagami, F. Kanehiro, Y. Hoshino, H. Inoue: A Platform for Robotics Research Based on the Remote-Brained Robot Approach, The International Journal of Robotics Research, Vol.19, No.10, pp.933--954, 2000.
M. Inaba, S. Kagami, F. Kanehiro, K. Nagasaka: Mother Operations to Evolve Embodied Robots Based on, in (Eds.): Artificial Life V, pp.319--326, The MIT Press, 1997.
M. Inaba: Remote-Brained Robots, in Proceedings of Fifteenth International Joint Conference on Artificial Intelligence (IJCAI-97), pp.1593--1606, 1997.
Masayuki Inaba: Remote-Brained Robotics: Interfacing AI with Real World Behaviors, in Takeo Kanade and Richard Paul (Eds.): Robotics Research, Vol.6, pp.335--344, The International Foundation for Robotcs Research, 1994.